Jim Grover is just a playwright
A writer who trained as a musician, even performing in the premiere of a Verdi opera. Has acted (how else can you understand how to write for actors?) directed (how else can you know how directors work?) and is also an occasional if reluctant stage producer, having worked with the CANP and RITE2STAGE theatre companies.

Partner and gallery technician for the PICTURES IN YOUR DREAMS virtual gallery, head librarian for BOOKS UNWRITTEN - REVIEWS PUBLISHED and chief arborologist on SHAMCESTORS Catalogue of Artificial Family Trees, this is a writer who was viewed regularly by up to an incredible 50,000 people a week world-wide during a 3 years stint at Haiku Headlines. Throw in a prime-time TV appearance (as "the playwright") on ITV1 in The Monocled Dandy, an episode of LWT's London's Scariest Mysteries devoted to the nefarious exploits of the GLASS HERO Victor Grayson's nemesis, Maundy Gregory and you are getting close. There is also the hushed whisper of an occasional day-job as a lecturer. And, of course, do not let us forget the focus of your attention, dear reader; Webmaster here on

A principal feature of this website when it first began was write-on-line, exposing the developmental process of the playwright's craft and inviting comment from readers. GLASS HERO was the first full-length stage work written live on the Internet. Equal credit for this experimental stage to net novelty act must go to PoL Steel, who picked up the idea immediately, promoted GLASS HERO and subsequent works-in-progress plays through his Scotfestival, The Gathering, EIIF and Flipside, going on to produce the stage premiere of GLASS HERO for the 2002 Edinburgh Festivals.
The current internet mass audience are rather naive about the niceties and conventions of reproducing Copyright material, which makes the exposure of incomplete plays rather risky. The author is, nevertheless, still available for questioning and discussion on current and planned projects.
Plays available and commissions welcome, terms by arrangement with Jim Grover and Ed Udovick, IMPULSE PLAYWRIGHTS AGENCY (N American rights).
Nominations re-opened for PICTURES IN YOUR DREAMS , BOOKS UNWRITTEN - REVIEWS PUBLISHED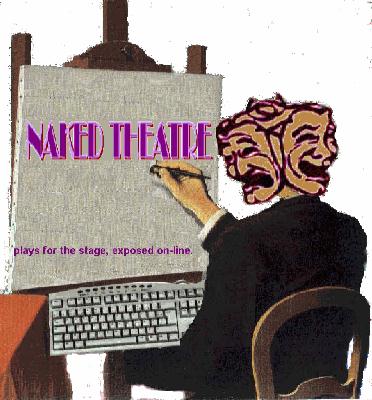 SHAMCESTORS Catalogue of Artificial Family Trees
Look, I've done all the talking. Tell me what you think.